The 2022 Hyundai Tucson in Rockville MD

Choose a Hyundai Tucson That Suits You
The Hyundai Tucson is an SUV that pretty much defines what it means to be a modern SUV. First, it has plenty of capability. There are a few different powertrains that it can run on, and all of them can get the job done easily. The Tucson has also been equipped with many high-tech safety and entertainment features. Combining all of these things with a comfortable and spacious cabin gives you a complete package. We expect the redesigned 2022 Hyundai Tucson to do quite well in the Rockville market.
What's New This Year?
So much has changed about the Hyundai Tucson. In the past, it had a lot of success, and we're confident that Rockville drivers will love all the upgrades that have been made for 2022. The new model is about six inches longer than it used to be, and it's slightly wider and taller as well. The exterior of the vehicle has been redesigned to look more rugged and muscular. The interior has been tweaked a bit, too. The dash is sleek and streamlined, giving the cabin a somewhat minimalist appearance. Plus, the technology has all been improved upon. Finally, some new trims are coming to the roads in Baltimore. The first is a plug-in hybrid, and the other is a sporty N Line.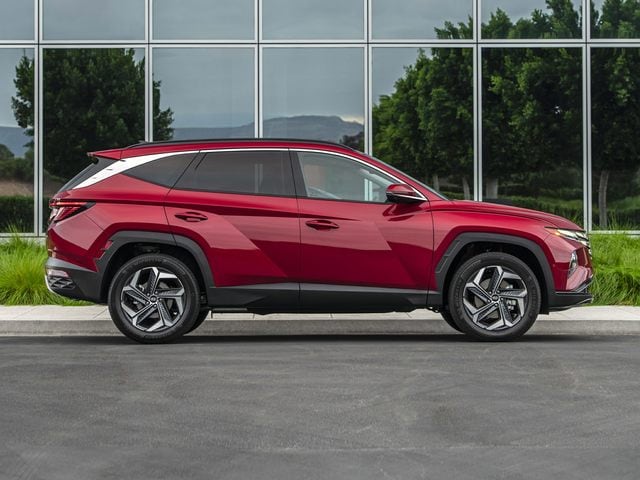 Performance & Capability
The base Tucson models run on 187-horsepower engines. These have displacements of 2.5 liters and come with 178 pound-feet of torque. An eight-speed automatic transmission is standard, as is front-wheel drive. However, Alexandria, VA customers have the option of getting all-wheel drive if they feel that they could use the extra traction in some situations. Towing capacity is 2,000 pounds, and there are different drive modes to choose from.
With the hybrid version of the Tucson, there's a turbocharged 1.6-liter engine and an electric motor. These components work together to make a combined 226 horsepower. There's a six-speed automatic transmission, and towing capacity is again 2,000 pounds. The big advantage is the significantly improved fuel economy. Another difference is that the hybrids come standard with all-wheel drive.
We're still waiting for some details on the plug-in version of the Hyundai Tucson, but we can tell you that it also has standard all-wheel drive. It runs on a 1.6-liter turbocharged engine as well, and its battery can be recharged at home or at a public charging station in Washington, DC or anywhere you travel. With a full charge, you'd be able to go a good distance while relying exclusively on battery power.

Safety
A full set of driver-assist technologies is standard with the Hyundai Tucson. With lane-keeping and lane following assist, the SUV can help you stay centered in your lane. Since the vehicle has forward collision avoidance assist with pedestrian detection, the chances of getting involved in a frontal collision are greatly reduced. Many of the Tucson trims have even more systems in place to protect you and your passengers as you drive. This system includes blind spot collision-avoidance assist, rear cross-traffic collision-avoidance assist, a surround view monitor, and the intriguing remote start park assist function.
Technology
The Hyundai Tucson can either have an eight-inch touchscreen or one that's a bit larger, measuring 10.25 inches. Both of these touchscreens have Apple CarPlay and Android Auto. SiriusXM is found in most trims, as is the Blue Link Connected Car Service. With the larger touchscreen, you get to have integrated navigation. This helps you keep track of where you are, and it gives you information about traffic flow.
Visit Fitzgerald Hyundai Today!
If you're in  Baltimore or Arlington, VA, visit Fitzgerald Hyundai in Rockville for a test drive and feel free to reach out any time with questions.
Make an Inquiry
* Indicates a required field