The 2021 Hyundai Santa Fe in Rockville MD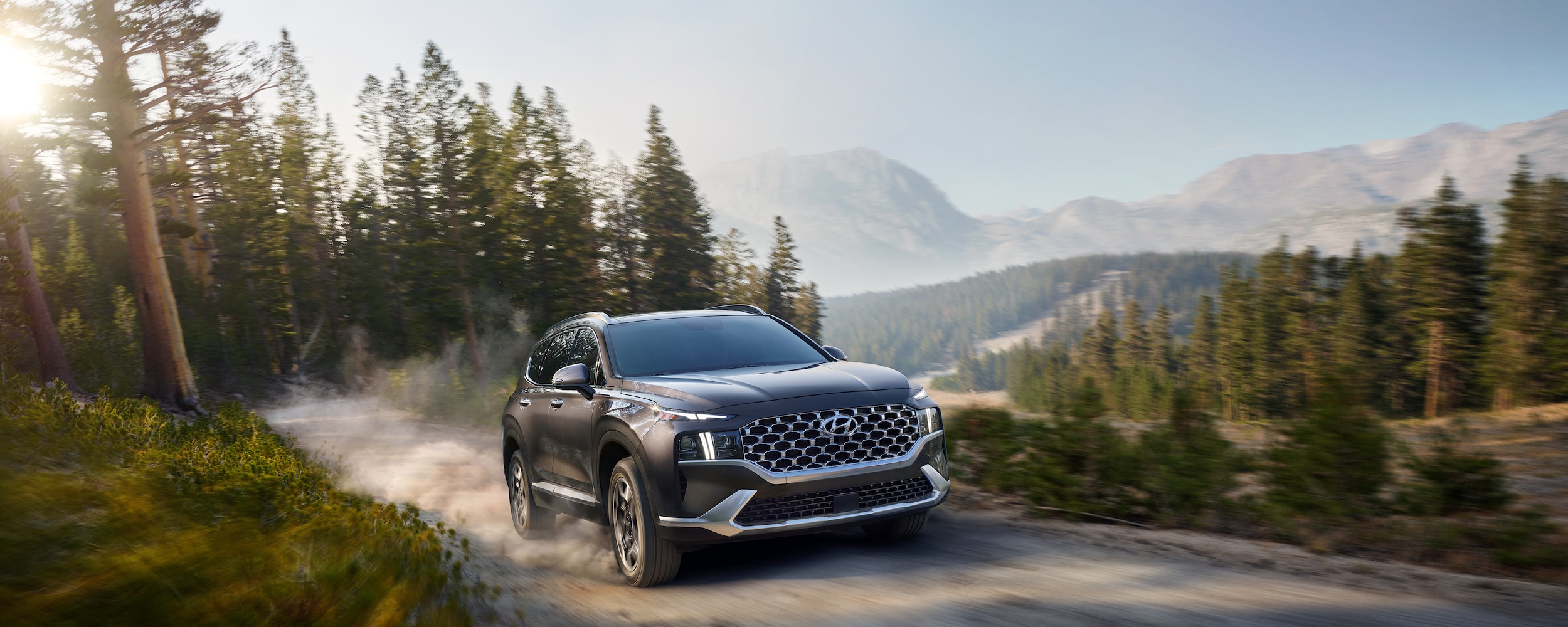 Explore the New Hyundai Santa Fe at Fitzgerald Hyundai
The latest Hyundai Santa Fe arrives as a more powerful and stylish midsized SUV than its previous versions. It runs on a completely new and robust gasoline engine, including plug-in hybrid and hybrid variants. Driving the new Hyundai Santa Fe will guarantee you and your loved ones a safe and comfortable commute on the city and highway roads from Baltimore to Arlington VA. Fitzgerald Hyundai in Rockville has new Hyundai vehicles, including the latest Hyundai Santa Fe.
Exterior Details
An extensive and eye-catching front grille with tapings on its sides and T-shaped LED lights define the latest Hyundai Santa Fe's exterior design. It has a new and exclusive taillight profile that creates a modern, stunning, and trendy overall effect. The latest Hyundai Santa Fe features roof rails and power-folding side mirrors with traffic turn-signal indicators. Furthermore, the SE models of the Santa Fe run on 18-inch wheels, while the top trims have optional 19- or 20-inch variants.
Powertrains
The new Hyundai Santa Fe has two power-trains options, where the hybrid and plug-in hybrid option is the latest update. Both the SE and SEL models run on a 2.5-liter four-cylinder engine coupled to an eight-speed automatic transmission. Thus, it generates 182 pound-feet of torque and 191 horsepower, where the all-wheel-drive (AWD) has a combined fuel economy of 23.5 mpg. The four-wheel-drive (FWD) variant has a combined fuel economy of 25 mpg.
Limited and Calligraphy models operate on a 2.5-liter turbo four-cylinder engine linked to a dual-clutch eight-speed auto transmission. It creates 277 horsepower and 311 pound-feet of torque, where the FWD has a combined fuel economy of 25 mpg and 24.5 mpg for the AWD. The Hyundai Santa Fe Hybrid has an electric motor connected to a 178-horsepower 1.6-liter turbocharged four-cylinder engine. Furthermore, the electric motor's expected power alone is 195 pound-feet of torque and 59 horsepower.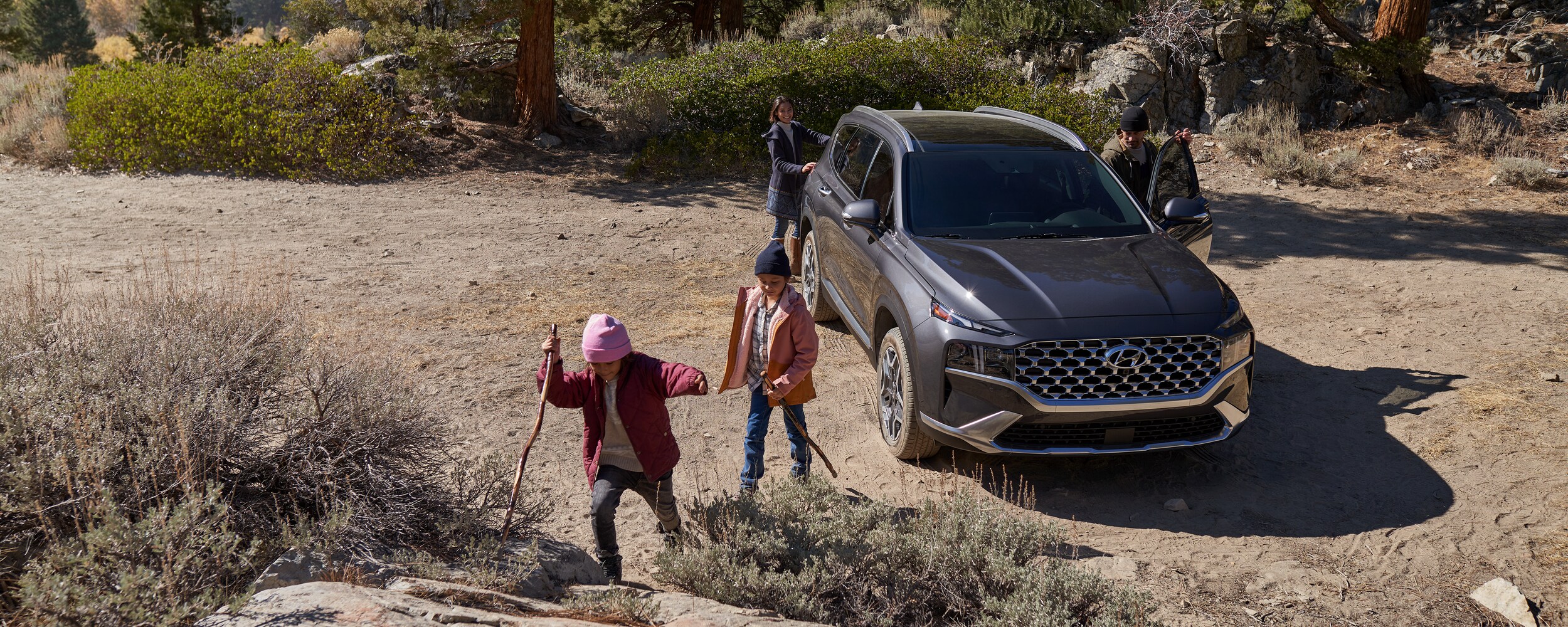 Interior Features
The brand-new Santa Fe has a revamped cabin that boasts numerous modern technology that delivers comfort and convenience. It features a large and impressive 12.3-inch digital cluster system and a 10.23-inch navigation unit. The sizeable and highly responsive touchscreen allows the driver to access navigation and play audio, radio, or videos. Also available is a push-button control that enables the driver to create more space inside the vehicle to fit cargo.
Soft-touch materials, ambient lighting, and colorful tones define the Hyundai Santa Fe's cabin. Additionally, top trims have more interior color tones and Nappa leather seats for a luxurious and attractive interior. Other Convenience amenities available in the latest Hyundai Santa Fe include power-folding back seats and a 12-speaker Harman Kardon premium audio.
Technology
The latest Hyundai Santa Fe YES Essential has a tilt/telescoping steering wheel, air conditioning, and stain-resistant cloth upholstery. Additionally, the YES Essential features a power-controlled cargo door and windows. It comes with a sizeable infotainment system with smartphone compatibility through Android Auto and Apple CarPlay. Heated front seats and rain-sensing wipers comprise optional technology amenities present in the latest Hyundai Santa Fe.
Safety
The standard safety features present in the latest Hyundai Santa Fe base model include several advanced driver assist. Forward collision avoidance assist, lane-keep assist, adaptive cruise control, and high beam assist comprise critical safety features in the Hyundai Santa Fe. The former helps the vehicle and driver detect other road users like pedestrians and cyclists in intersections. Other notable safety amenities include driver attention alert, pedestrian detection, remote parking assist, safe exit assist, a front and rear parking warning assist, and blind-spot monitoring.
Test Drive the Hyundai Santa Fe at Fitzgerald Hyundai

Fitzgerald Hyundai welcomes clients in and around Rockville should visit our dealership to go through the newly updated Hyundai vehicles. Whether you're in Alexandria, VA or Washington DC, our dealership's customer support is always available to respond to any new Hyundai Santa Fe question.